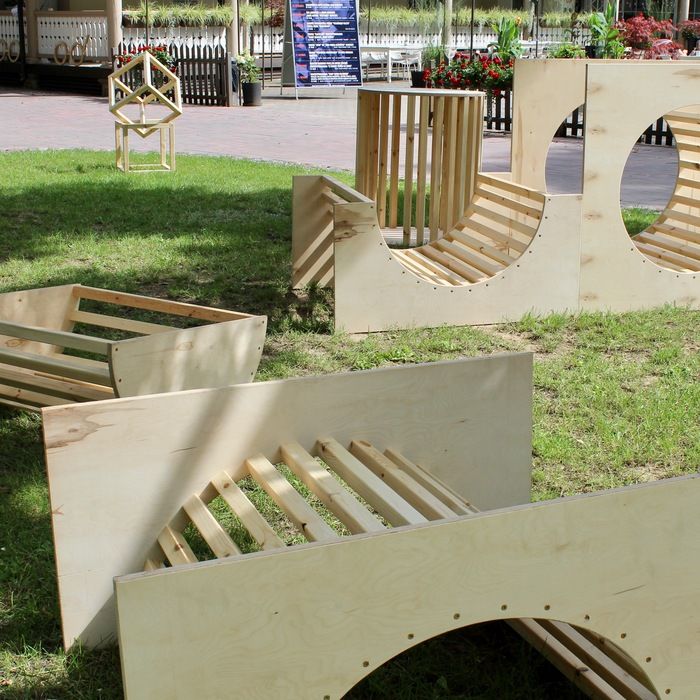 Students of architecture, urban design, and related disciplines were invited to RISEBA Summer School on the Ephemeral Architecture and Urban Design "FestivaL'and 2.0" also in 2019. The summer school was organized as a cooperation between RISEBA Faculty of Architecture and Design and Valmiera Summer Theatre festival (VVTF) from July 25 to Aug 2 in Valmiera city, Latvia.

Concept of 2019 – Playful and living city. Social diversity and inclusivity are fundamental aspects of any thriving city. Architecture and urban design play key roles in nurturing these characteristics. Majority of urban spaces, however, are built on somewhat pragmatic principles and outdated understanding of social structures and therefore often fail to efficiently address the needs of today's cities and their inhabitants.

The Playful city sets out to seek new directions for shaping future social spaces, focusing on children within the city and ways in which different age groups could mutually benefit from the interaction. The playful city would be an environment that encourages any person to engage in playful behavior. The Playful city allows anyone to freely find their own meanings and uses for the setting, and take an active part in forming the social space of the city.