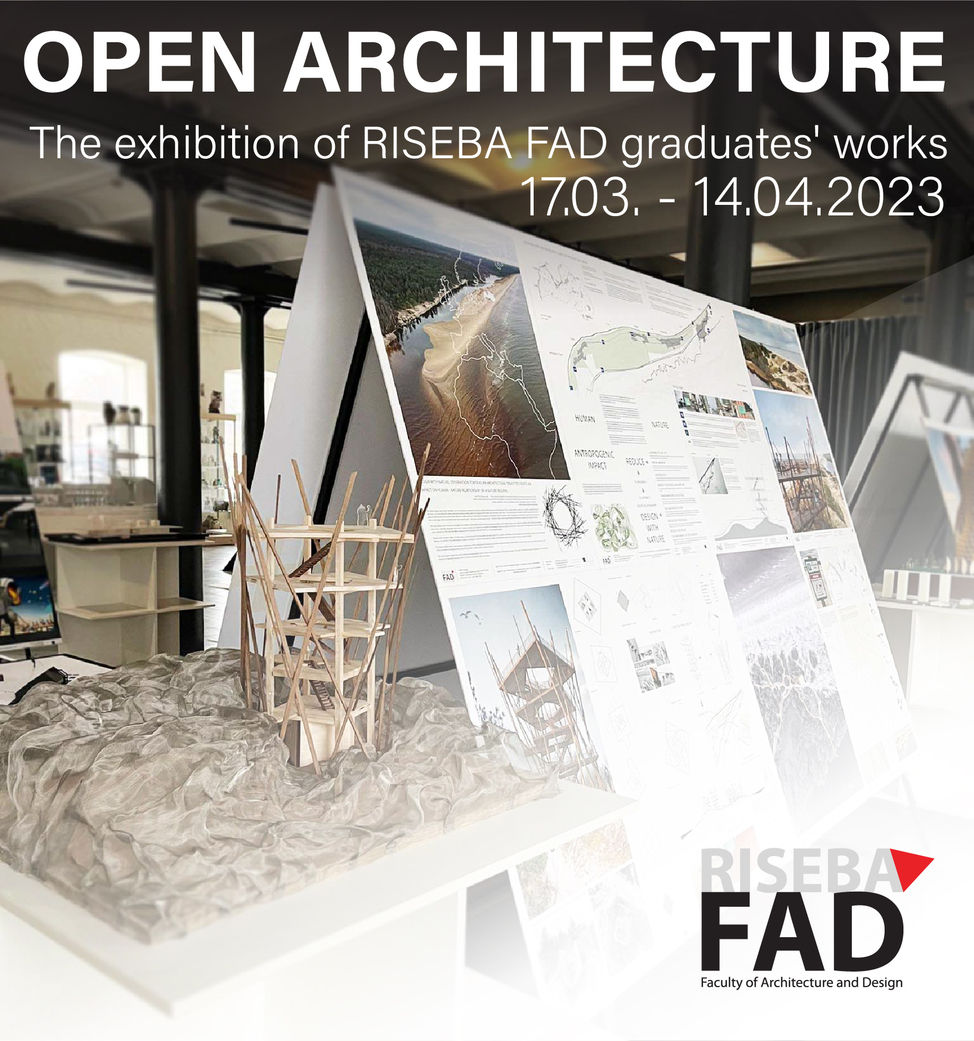 The exhibition of RISEBA FAD graduates' works "Open architecture",from 17.03. - 14.04.2023. can be seen at RISEBA Faculty of Architecture and Design, Durbes Street 4, Ground Floor Lobby.
Colleagues, family members, friends and guests - you are welcome to see the exhibition!
Open Architecture: Inhabitant as agent'. Architecture invites rather than formally dictate or control the inhabitants experience or subject events. The life of the building is dependent on its inhabitants that take on the extended roles in shaping the built environment:
"The architectural work here is conceived less as a finished building than as an evolving performative stage, the architect less as an all defining author than as a co-producer of a play; and the inhabitant less as a user who is expected to live the life determined by the all-knowing architect, than as an active, participating audience".
Open Architecture then being a broad enough topic that does not try to limit the architect or writer but sets the stage for a broader discussion on how and why architecture engages the spectator.
In February, 2023 altogether 15 graduates of RISEBA University BA Architecture programme defended their bachelor's thesis projects: Ernests Austriņš, Meldra Bērzāja, Inguss Birznieks, Monika Celinska, Vadims Golubevs, Ekaterina Golubovskaya, Zane Greisele, Kyryl Khushid, Sintija Kļavinska, Romans Koņuhovs, Andrejs Kopils, Sergejs Kopils, Krista Paula Lepere, Aleksandrs Meļeško, Armands Airtons Pampe.
The BA thesis projects were judged by the examination committee: Jury chairman - Andris Kronbergs, Honorary professor, Architect / ARHIS (LV), Jury Vice chairman - Ole Wiig - MArch (Harvard GSD) (NO), Jury members: Jānis Lejnieks - prof./PhD (LV); Didzis Jaunzems - Architect/ DJA (LV); Gunta Grikmane - Architect / Sarma&Norde (LV); Rudolfs Dainis Šmits - RISEBA FAD Dean (LV/US).