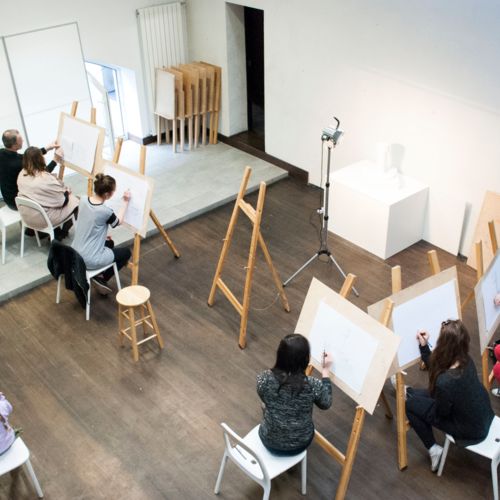 ACADEMIC BACHELOR'S DEGREE STUDY PROGRAMME "ARCHITECTURE"

Application for RISEBA University of Applied Sciences undergraduate study programs opens in April and closes at the end of June. International students can apply for studies by filling out an online application on DREAM APPLY platform or apply at RISEBA Information Centre (3, Meža Street, Riga).

More information about terms of admissions and procedure is available in the ADMISSION REQUIREMENTS. In order to be admitted to RISEBA University of Applied Sciences, all students must meet the general requirements for studying at RISEBA and the specific requirements for the ARCHITECTURE study programme.


Entrance requirements
GENERAL ENTRY REQUIREMENTS:
Valid ID or passport copy.
High school (secondary school or vocational school) completion certificate or diploma + transcript of final school grades.
Proof of chosen study language proficiency. For studies in English: IELTS score 6.0+, TOEFL (min 500) or equivalent. Applicants who do not have an internationally recognized test score will be requested to pass RISEBA English language test. English language test is not required if English is a native language or High school education was conducted in English or the grade in the Centralized exam of Secondary school (of the Republic of Latvia) is B1 (C) and higher.
International applicants will be required to pass RISEBA Admission's test.
SPECIFIC ENTRY REQUIREMENTS FOR ARCHITECTURE STUDY PROGRAMME:
Centralized exams (CE) in English and Mathematics. For those who have obtained secondary education until 2004, certificates of CE are not necessary. If a person has not passed the CE, RISEBA additionally organizes entrance examinations in English and Mathematics. The additional exam of Mathematics is not needed if the grade in CE of the Secondary school (of the Republic of Latvia) is D and higher or the grade in Secondary school record transcript in subject "Mathematics" is 6 and higher.
The applicant must pass the Drawing / Composition exam organized by RISEBA University of Applied Sciences. The exam is not needed if the candidate has successfully passed the final exam of RISEBA University Preparatory course in the drawing.
International applicants must submit the portfolio of creative work according to regulations and may be invited to interview via Skype.
The entry qualification documents for international applicants are accepted in Latvian, English or Russian. Often you can get a suitable transcript from your school. If this is not the case, you will need official translations along with verified copies of the original. You must take verified copies of the entry qualification documents along with you when you finally go to the university. Submitted copies of educational documents for international applicants (diploma and transcript of records) should be notary attested.
Please note that if your previous education is obtained abroad, you need to submit the recognition of the diploma issued by the Academic Information centre in Latvia.

...............................................................................................................................................................................................................

PROFESSIONAL MASTER'S DEGREE PROGRAMME "ARCHITECTURE" / postgraduate
For prospective students there are the following requirements:
diploma of the academic Bachelor's or Professional Bachelor's degree in architecture or an equivalent degree (+ transcript of records); if the previous education has been obtained abroad, the reference issued by Academic Information center in Latvia must be submitted,
filled-in online application,
submitted copy of the passport or ID,
payment of the registration fee,
English language entry test (not required for applicants who have acquired CE in English in B1 (Level C) or higher, have completed their previous education in English or have a positive IELTS (at least 6+) or TOEFL (with a rating of at least 500) – if an appropriate certificate is not available, an English examination organized by the RISEBA is required),
RISEBA Admission's test (just for foreign applicants),
submission of CV, digital portfolio, motivation letter and the brief description of the intended MA Thesis topic,
participation in the interview with the examination committee established by the programme director.
More about admissions here.

...............................................................................................................................................................................................................

For international applicants – in case of any questions, please contact the International student admissions office:
Aleksandra Dombrovska
Phone: +371 25620874
E-mail: [email protected]