SABĪNE VECVAGARE / BA Thesis / 2015 / A kindergarten in Riga city centre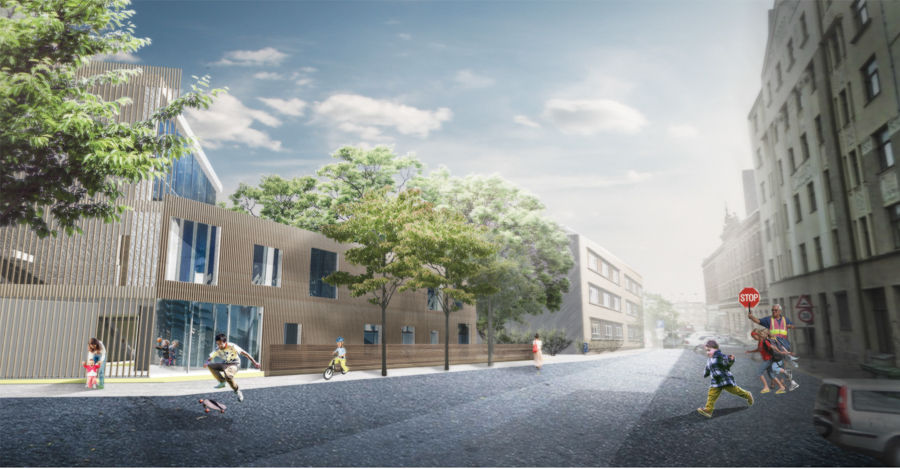 Theoretical part: Kindergarten architecture in the Historic Centre of Riga / Supervisor: Mg. arh. Artis Zvirgzdiņš

Practical part: A kindergarten in Riga city centre / Supervisor: Dipl. arh. Linda Krūmiņa

The intention of the thesis project was to design a functional and modern preschool in the Historic Centre of Riga. The necessity for such an establishment is based on both the ongoing shortage of such buildings and the municipality's inability to provide up-to-date preschool facilities for all children in Riga. The task of designing a kindergarten in urban conditions is a challenging one. The main aim of the project is to provide safety for the users of the building and well-lit spaces on the learning premises. The location is chosen according to the already existing site proposals for preschools made by the municipality. This particular site has limited space, so it was decided that the building should comprise three floors and also use an underground level for certain functions. As a unique element, a courtyard amphitheatre has been designed, connecting the upper floors directly to the yard and creating usable space below. It is often said that a child's environment is her or his third teacher, so it should provide a sense of safety and comfort, at the same time encouraging exploration, learning and creative development. The learning spaces should be adaptable to various scenarios; interaction between age and interest groups should be encouraged.