Subject/Object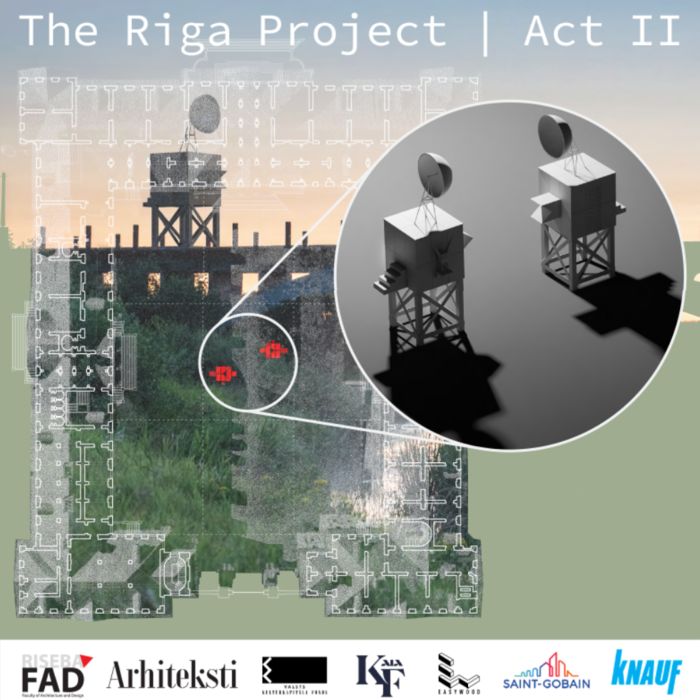 The installation Subject/Object, or Riga structures, are two large-format sculptures that were built with the participation of students and colleagues of the world-famous American architect John Hejduk at a special event in 1987 at the University of the Arts in Philadelphia. The 2021 published edition in Latvia "Johns Hejduks: Projekts Rīga" started the second path of this event, the new production Projekts Rīga - Subjekts/Objekts, which will be used in various places and situations in Latvia as an 'environmental project'. It is planned to start the traveling exhibition of Subject/Object sculptures in the courtyard of Rundāle Palace, and then in Rīga, Sāti and elsewhere. Both structures will be designed with the help of students using materials and modular components that allow for repeated assembly, disassembly, packing, moving and installation. The traveling installation would take the form of temporary exhibitions; it would be both publicly available and viewable remotely. In this production, both the troupe of characters, the actors and the spectators come on stage, so that everyone can live in the spatially unstable and perceptually changing conditions of the game.
The curators of the project are the ARHITEKSTI Foundation in cooperation with the Faculty of Architecture and Design (RISEBA FAD) of the RISEBA University of Business, Art and Technology. The ARCHITEKSTI Foundation is public benefit organization aiming to highlight historically significant architectural ideas that promote intellectual continuity and create a sustainable environment for new dialogue.
Individuals and companies can receive tax benefits when donating to "ARCHITECTS", which has the status of a public benefit organization.
We invite you to join our supporters and partners - the RISEBA Faculty of Architecture and Design (FAD), the Ministry of Culture of the Republic of Latvia and the State Cultural Capital Fund (VKKF), the Culture Fund of the American Latvian Association (ALA-KF), San Gobain, Knauf, Easywood, KIM - with financial and material support for the implementation of our projects.
According to Article 9, Clause 3 of the Law on Public Benefit Organizations, and a person's donation to one public benefit organization is 10 minimum monthly wages, which is required to conclude a written donation agreement. You can see a draft of the donation agreement here.
Clicking on the link below will take you to the donation section of our PayPal account. In this section, you will be able to choose one of the pre-prepared donation amounts of 25, 50 or 100 EUR, or the amount of your choice. Everyone contributes to the implementation of new and public donation promotion projects. Thank you!
-> DONATE
Details:
Foundation "ARCHITECTS"
Registration No.: 50008310001
Bank account: LV63HABA0551051439535
SWIFT: HABALV22
Bank: Swedbank
Legal address: Aldaru iela 12/14, Riga, LV-1050
The "ARCHITEKSTI" foundation has been granted the status of a public benefit organization.
Decision No. 32.6/8.71/10320 in force from 11.04.2022.