RIXARCH 2024/ II. INTERNATIONAL ARCHITECTURAL DESIGN CONFERENCE: Exploring the Blind Spots in Architecture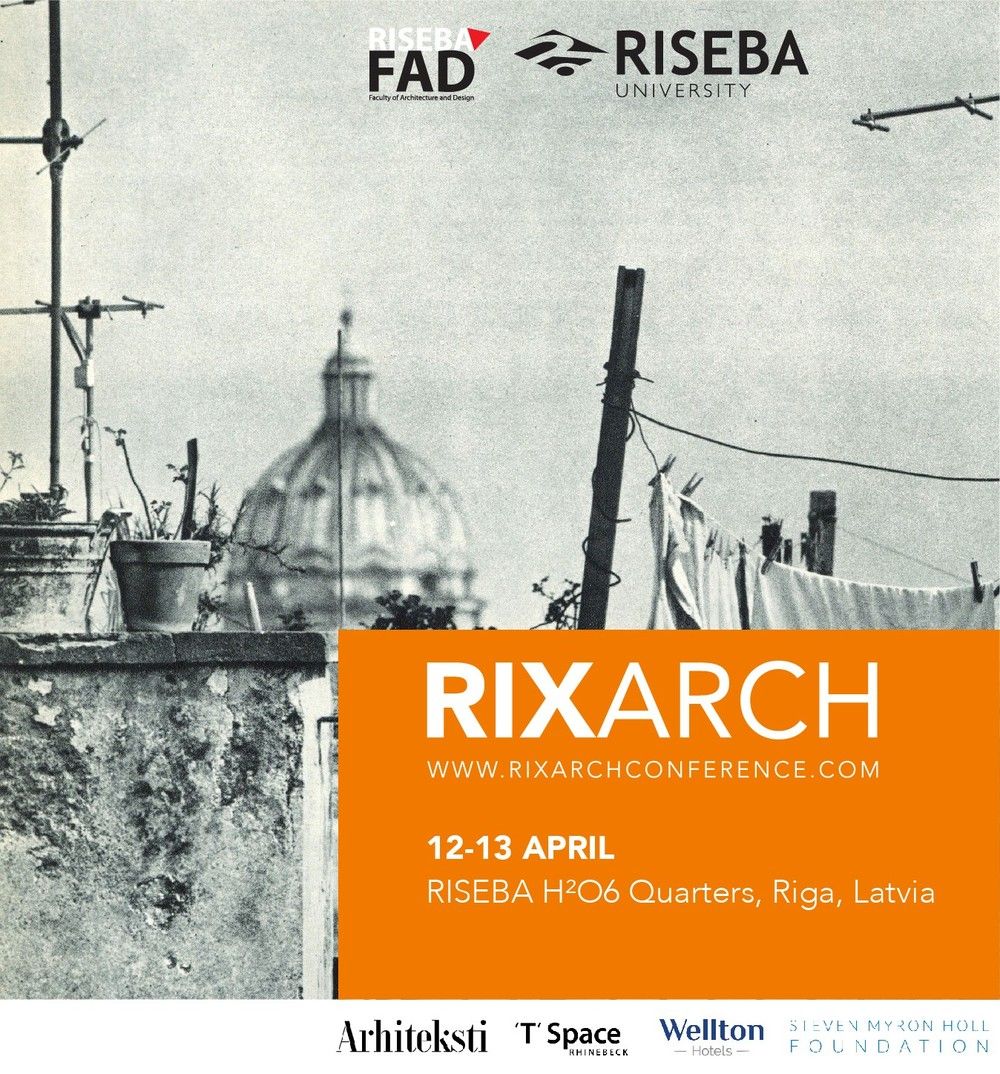 Riga, Latvia, September 27, 2023 - RISEBA University of Applied Sciences, Faculty of Architecture and Design, is thrilled to announce the upcoming II International Architectural Design Conference, RIXARCH 2024. The conference will be held in Riga, Latvia, from 12th to 13th of April, 2024. The main theme of this conference is "Blind Spot," exploring both the optical and metaphorical dimensions of this intriguing concept.
The exhibition "ROME AND THE TEACHER, ASTRA ZARIŅA", organized by 'T' Space / Steven Myron Holl Foundation and presented by ARHITEKSTI Foundation and RISEBA University Faculty of Architecture and Design, will be on view at the National Library of Latvia between March 14 and April 13 with the participation of world-renowned architect Steven Holl.
RIXARCH 2024 Conference is honored to feature an illustrious lineup of keynote speakers who bring a wealth of architectural expertise and insight to this event. Steven Holl, the Founder of Steven Holl Architects, is renowned for his visionary approach to architecture, marked by a harmonious blend of aesthetics and functionality. Ole Wiig, Founding Partner and Architectural Director of NSW Architectural Office, brings his innovative design sensibilities to the forefront, pushing the boundaries of architectural creativity. Nancy Josephson, President of the CIVITA Institute - The Northwest Institute for Architecture & Urban Studies in Italy, offers a unique perspective on the intersection of architecture and urban planning. Lastly, we are privileged to have Jana Jākobsone Dr., City Architect of Kuldīga, a UNESCO World Heritage town located in Latvia. Kuldīga's remarkable preservation of traditional urban settlement, exemplifying architectural influences and craftsmanship traditions from the 16th to the 19th centuries, underscores the profound historical significance of this conference. With these distinguished speakers, RIXARCH 2024 promises to be a forum where architectural excellence meets rich cultural heritage.

Prior to the RIXARCH 2024 Conference, an exceptional exhibition will be hosted at the National Library "ROME AND THE TEACHER, ASTRA ZARIŅA". The opening of this exhibition promises to be a momentous event in the world of architecture. Renowned architect Steven Holl, born in 1947 in Bremerton, Washington, will join the opening ceremony as the RIXARCH conference keynote speaker. Holl's journey in architecture, which began with his graduation from the University of Washington and further studies in Rome under Astra Zarina, has been marked by a profound commitment to creating buildings that not only captivate the eye but also enrich the spirit.

The term "Blind Spot" encompasses two intriguing interpretations. Firstly, it refers to the physiological notion of a blind spot, defined as a point of entry of the optic nerve on the retina that is insensitive to light. Secondly, it symbolizes an area where a person's view is obstructed, often challenging architects and designers to think beyond the conventional and explore the uncharted territories of creativity.

This year's RIXARCH 2024 Conference proudly presents its spotlight person, Mrs. Astra Zarina, a distinguished architect and a luminary in the field. Born in Latvia, Mrs. Zarina's journey in architecture began at the University of Washington in 1947, where she studied under esteemed faculty members such as Lionel Pries, Wendell Lovett, and Victor Steinbrueck. Her contributions to the world of architecture have been both inspirational and transformative.
RIXARCH 2024 will take place on April 12-13, 2024, at the RISEBA Architecture and Media Centre H2O 6 Quarters in the vibrant city of Riga, Latvia. This event aims to unite distinguished and emerging scholars from the local and international architectural community, creating a platform for enriching discussions on contemporary architectural issues. We extend a warm invitation to architects, designers, scholars, and enthusiasts from around the world to join us at RIXARCH 2024. We welcome submissions from diverse backgrounds and perspectives. All abstracts will undergo a rigorous double-blind peer review process, with accepted submissions published in the conference proceedings book, provided on the conference day. Furthermore, we invite authors to submit their full papers for post-conference publication in a special section of RISEBA University's esteemed ADAMarts journal's 2024 issue, contributing to the ongoing discourse in the field of architecture.

For more information, registration details, and submission guidelines, please visit our conference website at www.rixarchconference.com.
Join us in exploring the blind spots in architecture and shaping the future of design.