FAD student Juta Davidovska receives BAUA award for the best BA Thesis project – "Visitor Centre for the Lost Valley of Daugava", tutors: Dina Suhanova, Didzis Jaunzems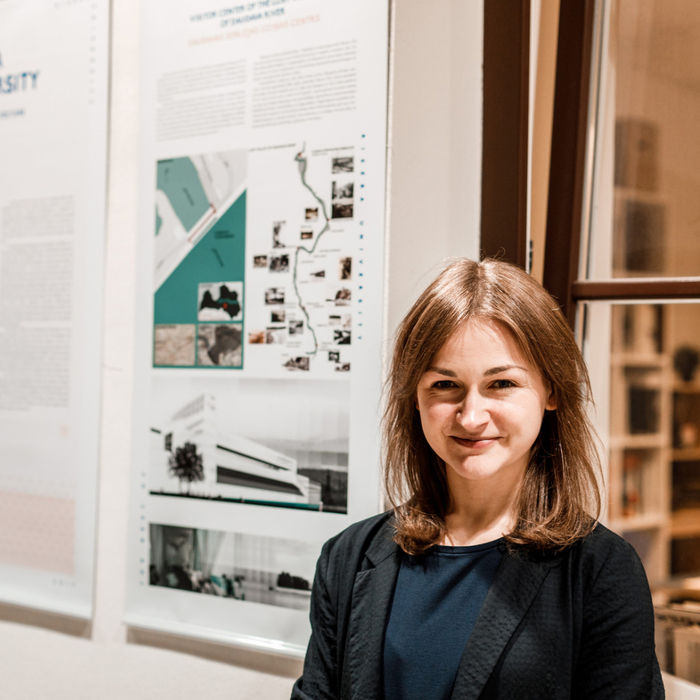 On Nov 3rd, 2017, the best works of young architects from Baltic states were awarded in the ceremony held in Vilnius, Lithuania. The award for the best master level work was given to Marten Peterson (Estonian Arts Academy, Estonia), and the award for the best bachelor degree work – to Juta Davidovska (RISEBA University, Latvia).

The event was organized for the 5th time by Baltic Architects' Unions' Association (BAUA) aiming to highlight the best young professionals presenting the best graduation projects of all the architectural schools from Lithuania, Latvia and Estonia. This year's edition features 17 projects from Vilnius Gediminas Technical University (Lithuania), Kaunas University of Technology (Lithuania), Vilnius Academy of Arts (Lithuania), RISEBA University (Latvia), Riga Technical University (Latvia), TTK University of Applied Sciences (Estonia) and Estonian Academy of Arts (Estonia).

The best projects were selected by the independent and professional jury members: architects Aurimas Sasnauskas (LT), Eve Komp (EST) and Gunta Grikmane (LV). The evaluation of young architects from Baltic architecture schools was done in accordance with defined criteria – conceptuality, originality and innovativeness; coherent architectural and urban idea and aesthetics of presentation, emphasizing first two.

The project "Visitor Center for the lost Valley of Daugava River" (supervisors: Dina Suhanova, Didzis Jaunzems) by Juta Davidovska was awarded as the best bachelor level project. The jury member A. Sasnauskas commented: "The work is very consistent. The historic facts give solid ground for the demand of the museum and its location. The new minimalistic volume integrates well into the structure of hidroplant built in 1965. The layout of the program is logic. The image of the museum as a bridge between the past and the present, between the human and the nature is convicing, although the presentation could have been more dramatic. All in all – it is a great example of bachelor level work."

During the event, all the participants presented their works to the jury and other audience in a live presentation in Vilnius, the house of Architects Association of Lithuania. The awards were complemented with the exhibition of all the 17 projects, a catalogue and side events, such as public discussion about architectural education in Baltic states, and presentations of the jury members.

The next BAUA Young Architect Award will take place in Estonia, fall of 2018.
The organizers: Baltic Architects' Unions' Association (BAUA) / Architects Association of Lithuania, Estonian Union of Architects, Latvian Association of Architects.
Sponsors: Ministry of Culture of Lithuania, Lithuanian Council for Culture, Ministry of Culture of Latvia, "Merks".

Text from press release by Ruta Leitanaite, President of BAUA.
Photos by Andra Marta Babre.