FAD students participating in the project "Multifunctional public outdoor spaces in the vicinity of Riga city"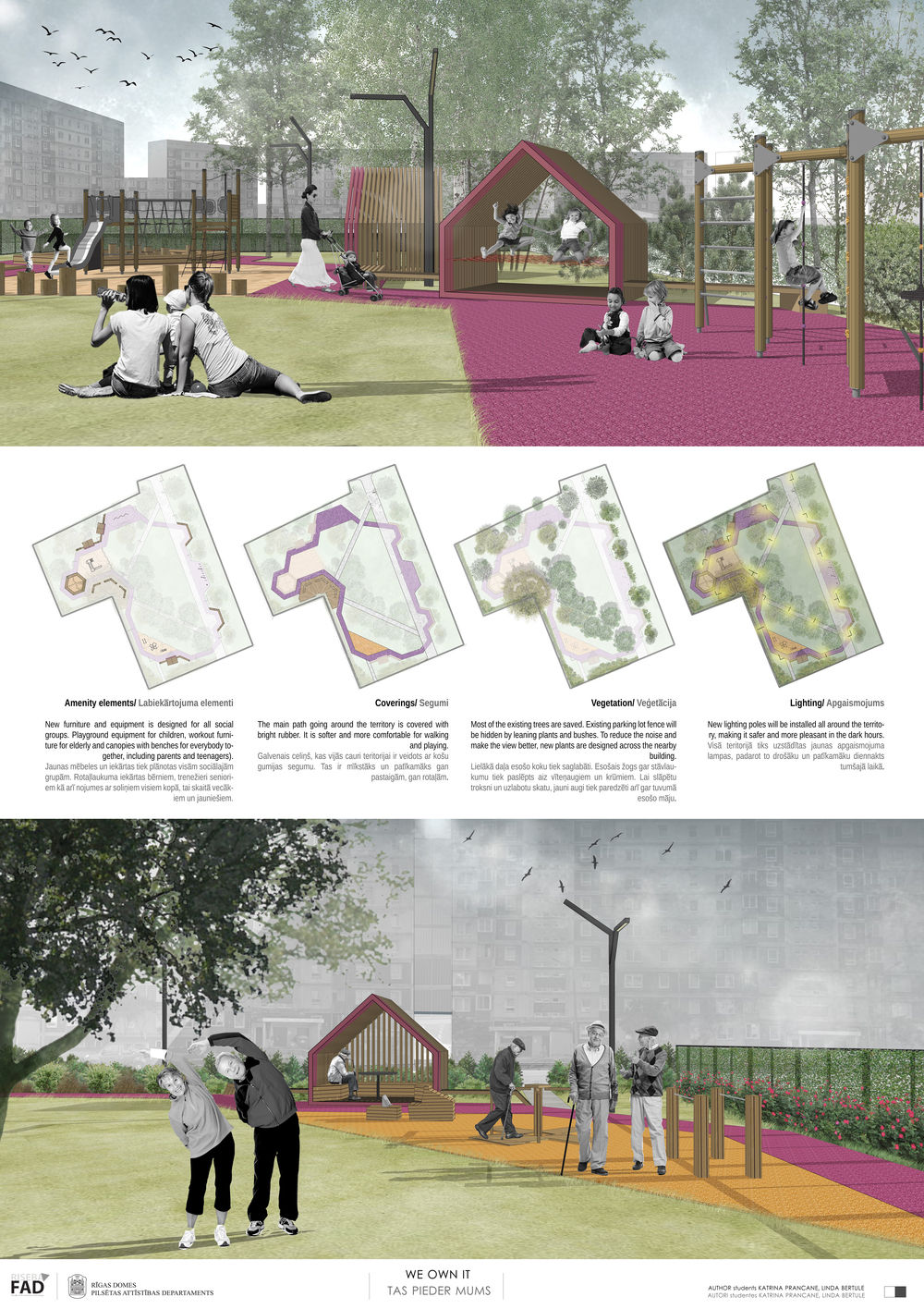 Riga City Council Development Department, attracting university students from the School of Business, Arts and Technology "RISEBA" and Riga Technical University, professional landscape architects from the ALPS landscape workshop and local residents, launched a new initiative - "Multifunctional public outdoor spaces around Riga". The aim of the project is to create a multifunctional public outdoor space in each administrative territory of the Riga Executive Directorate, creating a comfortable, safe and pleasant urban environment.
Based on the ideas of the students' projects, the opinion expressed by the residents and the assessment of the professional jury, the technical documentation of construction will be developed and in 2020 the improvement of three territories will be implemented. Areas where it is planned to implement student project intentions have been selected in cooperation with Riga City Executive Directorates. A total of EUR 600,000 funding from the Riga City Infrastructure Fund is planned for the development and implementation of development plans for all three territories.
Director of the City Development Department of Riga City Council p.i. Ilze Purmale, "Project" Development of multifunctional public outdoor space in the vicinity of Riga city "is a municipal initiative, which involves various stakeholders in creating public outdoor space to promote a multifaceted view in project implementation and further develop the already established form of cooperation between city, industry professionals and neighborhood residents. We hope that this initiative will be an opportunity to continue in the coming years. "
Ilze Rukšāne, landscape architect "ALPS landscape workshop", RISEBA lecturer, "Collaborative planning always throws its challenges and even more so in this extraordinary situation. We are glad that at the beginning of the semester we managed to organize a meeting with the residents of the specific areas in order to find out their wishes and their own vision of their yards. This, as well as a thorough site study, was taken into account by the students when developing their proposals. The territories are very different, each with its own specifics, so we are glad that we were able to cooperate with the students and lecturers of RTU APF faculty in order to create the most thoughtful and creative offers for each place. The project in this emergency was a challenge for all of us and we are pleased with the students' enthusiasm, interest and remote communication. The work is well done, but now the second part of the project will begin - when, evaluating and balancing the students' ideas, the interests of the population and the views of professionals, the documentation necessary for implementation will be developed. That is why it is very important now for the public to respond to the proposals on the Internet, so that we can take them into account as far as possible in the further development of projects. We sincerely hope that this pilot project will be a success, as it is a fantastic initiative for Riga, which can be the basis for sustainable development of public outdoor space and promotion of activity of residents. "
Additional information about the project is available on the website www.rdpad.lv: https://www.rdpad.lv/portfolio/daudzfunkcionalas-publiskas-artelpas-attistiba-rigas-pilsetas-apkaimes/