Student workshop in Aizpute 2023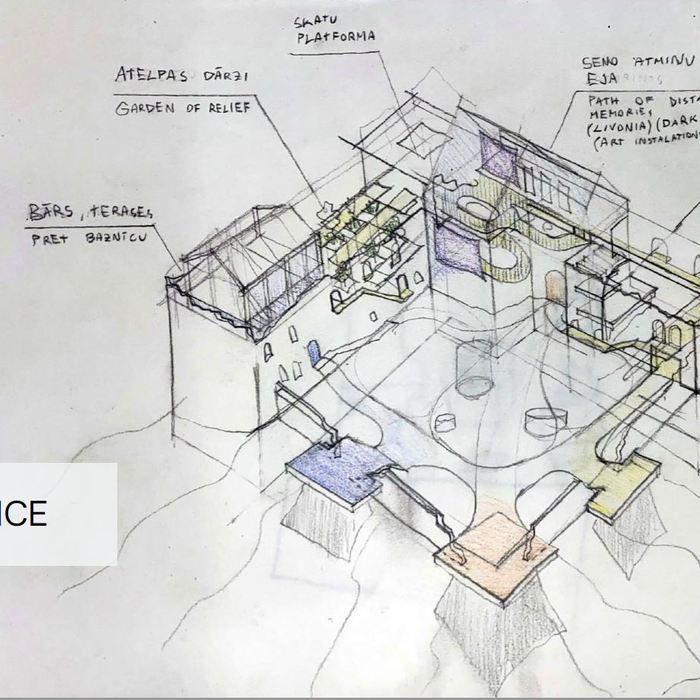 The fifth Aizpute workshop has already been held, which is organized in cooperation with the Aizpute Renaissance Union and the RISEBA University Faculty of Architecture and design. From 11.-14. In May, four intensive workshop days were held, where architecture students from RISEBA University, Liepāja Music, Art and Design High School (LMVV) as well as international communication management students from Turība business school worked on the creation of inter-use proposals for Aizpute medieval castle.
Despite the fact that the medieval castle of Aizpute does not have any content suitable for a tourist object, only the ruins of the castle, it is one of the most popular and frequently visited tourist objects of the Southern Kurzeme region. Also, there is no infrastructure suitable for public events in the palace complex, but concerts and public events have been held in the palace in recent years at the initiative of the public. In order to fully restore the object and find the necessary significant financial resources, it will probably take several decades.
Therefore, the students' task was to develop ideas for the intermediate use of the castle in less than four days - how to return the medieval castle of Aizpute to the cultural circulation for the benefit of society and active use until the complete reconstruction of the castle. "Intermediate use" is an essential prerequisite for understanding and identifying the long-term needs of society, the local community, before investing significant funds in the reconstruction of the object.
Students were advised by specialists and professionals from interdisciplinary fields who shared lectures and practical advice on history, sociology, landscape architecture and architecture: landscape architect Helēna Gūtmane (RISEBA), architect Zane Vēja (RISEBA), social planner Jonas Büchel ( RISEBA, Latvia University), civil engineer Jānis Kreitzburgs (RISEBA, RTU). Architect Ieva Zībarte, architect Andra Šmite, director of the Žanis Lipke Memorial Lolita Tomsone also took part in the evaluation of students' works.
The workshop is financed by the State Cultural Capital Fund, the Municipality of Southern Kurzeme Region, RISEBA University and "Kurzemes Atslēga". Organized by Aizpute Renaissance Union.