Thinking of the future homes. International Week ESET at CEU-UCH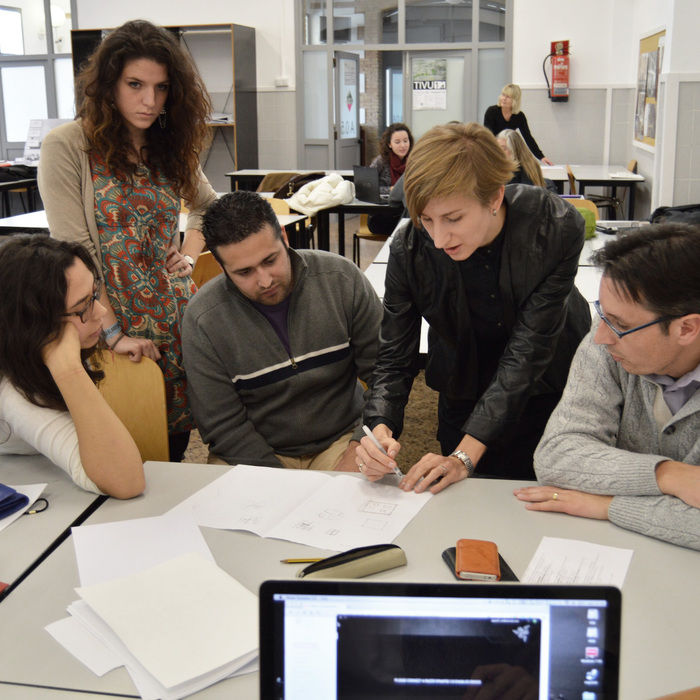 Dina Suhanova / architect / tutor at the Architecture design I studio
With a support of ERASMUS academic staff exchange program from 3rd till 7th of February architect and tutor Dina Suhanova took part in the International Week ESET at CEU Cardenal Herrera University The Technical School of Design, Architecture and Engineering in Valencia, Spain. The international week brought together 12 teachers and researchers from different European countries (LV, PL, PT, AU, CZ, IT, EE, ES) covering such fields as architecture, engineering design, information technology, energy and sustainability to have a multicultural and interdisciplinary reflection on the future homes of humanity. Thinking about the future has always been a great deal in the architecture theory and practice. In this case local students together with their teachers held the week-long workshop with an input lecture series and discussions by international guests. During the week students had to come up with the specific concept as a vision on the future living possibilities. The lecture series included also speeches from such inspiring figures and innovators as Mario Moretti (president of GEOX), Enric Bas (Professor of Social Foresight at the Faculty of Economics of the University of Alicante, Director of FUTURLAB-The Laboratory of Applied Foresight at UA), architects from mccullough mulvin architects (IE).
The participation in the international week included lecture and tutoring the students' workshop about the modern future home. The lecture "Rethinking the Soviet modernity. Case study – living unit typology in Soviet Latvia (Riga) architecture" given by Dina Suhanova was an overview of the mikrorayons (residential districts) built during Soviet regime and Soviet modernism housing architecture in Latvia. Before thinking about future utopias it might be useful to know the context you are dealing with. The lecture was prepared to broaden the students' knowledge about the specific period in architecture and urban planning history. The participants come to understand the peculiarities of Soviet urban planning and multi-storey housing architecture and interior design and what impact that leaves to the current housing situation in Latvia, specifically Riga.
From the educational point of view such international experience is very enriching for both participants - for students and for teaching staff. As noticed by Spanish Professor architect Andres Ros - the contrast in teaching methods and topics revealed from other countries broadens the perspective of the students and confronts them with the unexpected settings, forces to deal with the language barrier and offers new knowledge allowing to generate more complex concepts. Such international gathering allows academic staff to exchange teaching experience and compare teaching systems and expertise, acknowledge new methods and expand the knowledge.