RISEBA FAD 3rd year students goes to Rotterdam / 2014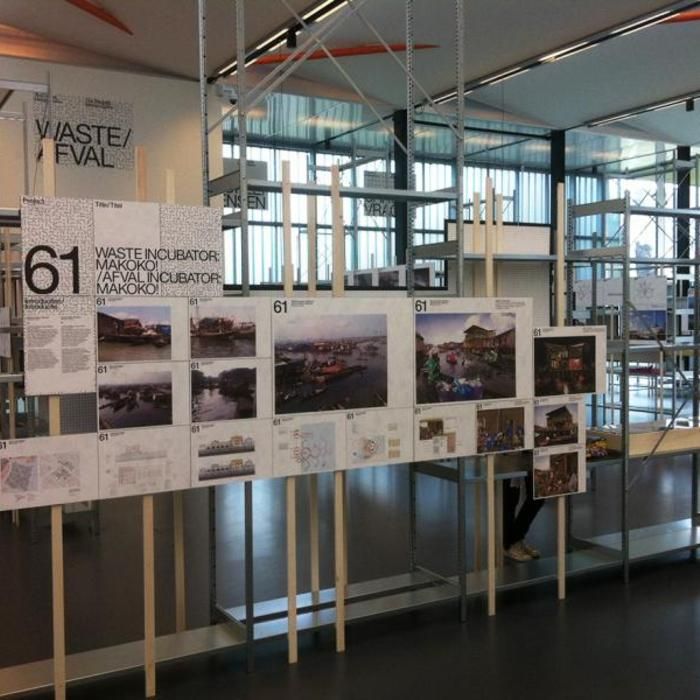 Ints Menģelis / architect / tutor at the Architecture Design studio III & IV
If you get bored of traditional Hanza city and you feel like living in a museum of history, you need to get a fresh look of the contemporary architecture and urban life and must go to (let's say) Rotterdam. So did 3rd year architecture students. Together with Architecture design IV tutors Janin Walter, Ints Menģelis and Architecture programme director Oskars Redbergs from May 28th till June 1st they went on annual study tour to Netherlands. Since WW II, when city was bombed, it always has been an experimentation platform for the urban enviroment and architecture. Since 1970-ties, when one of most significant architecture offices nowadays OMA (Office of Metropolitain Architecture) was established there, creative competition, experimentation and searching for new possibilities had became even more visible.
You can find it in the Cube houses by Piet Blom, where the original concept was that you live in the geometrical tree and group of houses perform as the forest. Also tower De Rotterdam designed by architect Rem Kolhass was an elegant experiment of the volumes. That is almost 50 storey high building what gives a feeling that there is no gravity and its possible to play with building volumes by shifting, lifting or erasing some parts - just like the kids playing with wooden blocks in the sandbox. The latest overturned U-shape residental building, Central Market hall by architecture office MVRDV, gives some familiar feeling and slightly reminds of Riga Central market hall. It's true that not all of the experiments can possibly go well and some may even do harm for the city and the users, hovewer its exciting and worth to see, learn and inspire from that courage.
Besides many urban and architecture examples, another important reason to go to Rotterdam was URBAN BY NATURE, the 6th edition of the International Architecture Biennale Rotterdam, curated by Dutch landscape architect Dirk Sijmons. The part of conference was opening presentation of the book City and Wind, climate as an architectural instrument by Mareike Krautherheim, Ralf Pasel, Sven Pfeiffer, Joachim Schultz-Grandberg. Just before study tour 3rd year students together with students from TU Berlin had an 100h urban intervention workshop and already had a chance to meet with one of the authors of the book - prof. Ralf Pasel. He recently also participated as a jury member for annual Latvian Architecture Award 2014. Study tour lasted just few exciting days and it seems that we only had a small glimpse of the exciting city Rotterdam. Hopefully someday we will return and take part in Rotterdam biennale as participants.