FAD students design the objects from composite materials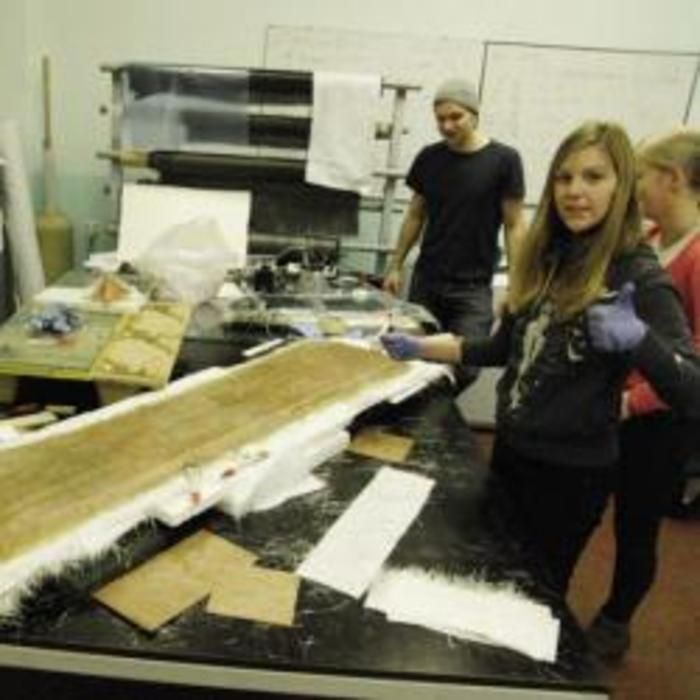 Igors Malovickis, BA Arch III year student / 2013/2014
During the autumn semester the 3rd year students participated in a study course that introduced them to new material types and properties as well as innovative way of engineering. Material science was led by structural engineer, Dr.sc.ing. Kaspars Kalniņš who also teaches in the Institute of Materials and Structures at Riga Technical University.
At the beginning of the course, students were introduced to basic properties of materials – their strengths and weaknesses, after which students were asked to investigate these properties on special machines, each student having a different set of materials to test. Material bending and compression was looked at in order to study material reaction to these processes. Students then were asked to evaluate these tests – turn the data from physical actions into numerical evaluation with property calculations of bending strengths and compressive properties. Being one of the essential durable lightweight materials, properties and the correct placement of carbon fiber was introduced as well in order to get a solid solution, but that was just the beginning of material research.
Students then were assigned into various groups in order to carry out the final task which went on over multiple lectures – a design of an object from composite materials. The task included rapid engineering principles when a given object was to be copied from composite materials – cheap, durable and very flexible tool. Groups started to work on a design of a skateboard, a snowboard, a chair, a mudguard and a car shark fin. During this task, students worked with such materials as epoxide resin, fiberglass and carbon fiber and various other chemicals that allowed for fiber materials to gain form and strength over time. In order for material to get the desired shape, the fibers were sealed in vacuum environment which was afterwards filled with resin using the vacuum pumps.
Before the designing of these objects, students were introduced with theoretical part and video lessons on how to execute such tasks after which the practical part was provided. Students were excited during the rapid engineering experiments as for most of them it was a new field of work and an interaction with new type of materials. In the end, only one of the designed objects passed the strength test – a skateboard, but it did not disturb the experimentation part that was done in the research.