RISEBA FAD study tour to Barcelona, Spain / 2013/2014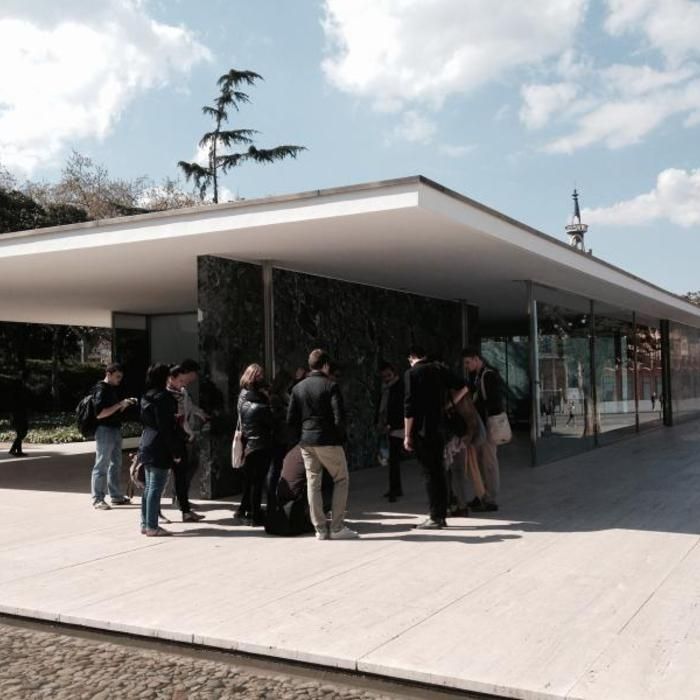 From 24th till 28th of March 1st and 2nd year students from RISEBA Architecture department together with architecture design tutors Dina Suhanova and Didzis Jaunzems went on annual study tour to Barcelona, Spain. The study tours are organized each year and is part of the subject Study Practice. Before taking off, students are requested to prepare the research booklet as a guide that accompanies them in the study tour. Part of the Study Practice is also their presentations on the site where they introduce others with the research on specific topic or building.
This year study tour was organized to Barcelona which is a diverse city with the certain urban planning peculiarities dating back to Roman times and medieval period. The most significant were changes made after demoloshing city walls and expanding the inner city in 1854 - so called Cerda's grid plan. The students were asked to explore civil engineer's Ildefons Cerda grid plan for the expansion and remodelling of the city done in second half of 19th century. Cerda's grid plan is considered today as outstanding model of universal relevance and is a significant feature of Barcelona's urban pattern. Students explored also the urban complexes done for International Exhibition in 1929, and Summer Olimpic games in 1992, the Olimpic Park and Porta Olimpic, and recent urban planning interventions and contemporary architecture building projects by both - local and world wide known architects, started in 1990ties and finished or partly suspended by economical crisis. Since 2nd year students this semester are designing cultural house in Sarkandaugava the particular attention also in study tour was paid to cultural edifices - their functional layouts and design. For that reason students had half a day workshop to explore the particular building on the site - Sant Antoni-Joan Oliver Library and Community Centre by RCR architects.
Part of the study tour were dedicated to Spanish modernisme (art noveau) and significant buildings by Catalan architect Antonio Gaudi - Sagrada Familia, Casa Mila and Casa Battlo. Students visited also his early 20th century interpretation of garden city - the garden complex of Park Guell. Two major exhibitions were included in the study tour schedule - Motor of Modernity at MACBA what concerned modernism movement in Spain and exhibition Le Corbusier. An Atlas of modern landscapes at Caixa forum - the exhibit on the work of Le Corbusier produced by MoMA NewYork.
Thanks to the contacts with Latvian architects currently working in Spain students had a possibility to visit two globally recognizable architecture offices - Ricardo Bofill's architectural practice in the building complex of former cement factory and Miralles Tagliabue EMBT architecture office. The study tour included also two visits in architecture schools in Barcelona - Barcelona school of Architecture in Politechnical University of Catalonia and the Institute of advanced architecture of Catalonia. Iaac is hosting also FAB LAB and as an institute is very much driven by research and digital production exploring the possibilites of such technologies as 3d printing, laser cutting etc. Despite of the intense schedule students participated also in the open lecture at IaaC by French architect Francis Soler.