Latvian Architecture of the Year Award nominee: Book "John Hejduk: The Riga Project"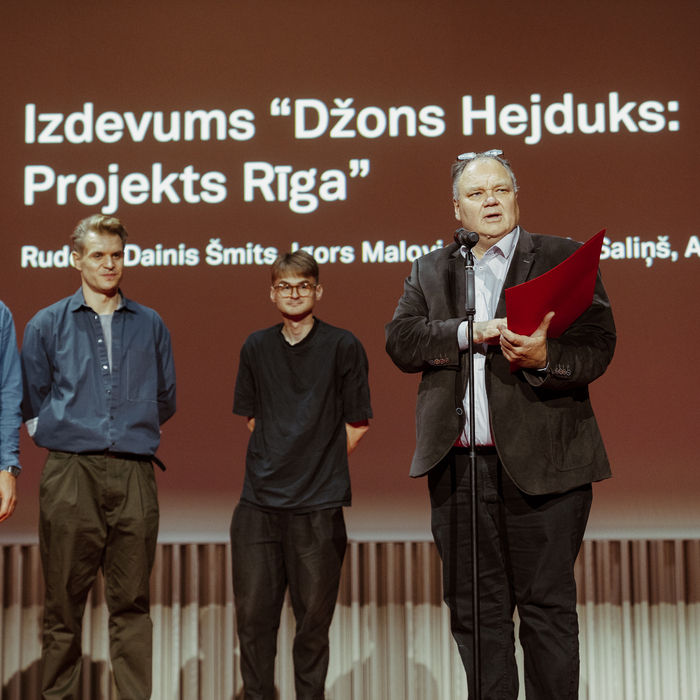 It is a great honor to be among the nominees of the Latvian Architecture of the Year Award 2022!
RISEBA FAD dean Rudolfs Dainis Šmits, together with our faculty graduates and colleagues Igors Malovickis, Reinis Saliņš and Andris Dzenis (foundation "Arhiteksti"), were nominated for the 2022 Architecture of the Year Award, in the nomination - Processes.
"John Hejduk: The Riga Project" is a set of three books that introduces the 1987 fabrication process of two large scale structures – Object/Subject – by the prominent American architect and educator John Hejduk at the University of the Arts in Philadelphia. The reissued 1989 edition is complemented with two additional books – a Latvian translation, which expands on the two opaque anthropomorphic structures, and "Act Two: The Riga Project", which initiates the reenactment of Hejduk's 'Riga' in Riga and elsewhere in Latvia.
In the spring semester of 2022, R.D. Šmits, under the guidance of Igors Malovickis and Rudolfs Bekičs, together with the students of the RISEBA Faculty of Architecture, developed detail drawings for the structures of the subject and the object and created models for the structure's chosen locations. It is planned to install the objects in chosen locations in year 2023 as part of student practice.
Photo - material published by LAS from the annual award ceremony, Filips Šmits